Rachel Atherton smokes the women's field
Rachel Atherton smokes the women's field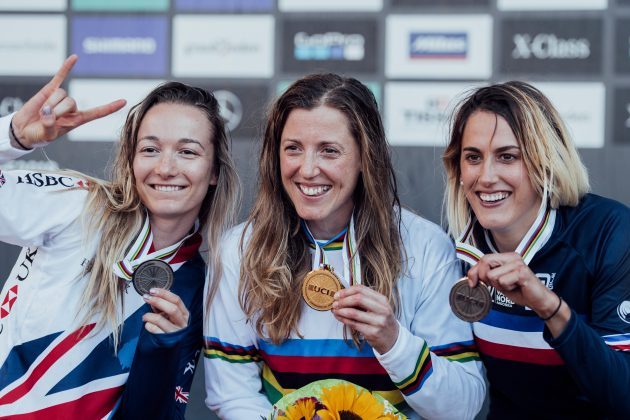 Much to the delight of the thousands of Swiss fans lining the track, EWS mainstay Caro Gehrig set a fast time early, which held until fellow Swiss rider Janine Hübscher managed to push Gehrig out of the hot seat. The Swiss duo in first and second then watched on as the next four women failed to come close to a podium spot. It wasn't until 2012 UCI World Champion Morgane Charre took to the track, that Hübscher and Gehrig started to shift around nervously on the hot seats. Charre showed a brilliant run and crossed the finish line over five seconds quicker to take over the lead.
The Top 10 ranked riders got underway with a fast start by the Queen of Enduro, Cecile Ravanel (FRA), but a front flat halfway down the track ruined the chances of the medal favorite. Following Ravanel and spurred on by the frantic local fans, Swiss powerhouse Emilie Siegenthaler lit up the track to take over the hot seat. Siegenthaler nervously watched on as both Katy Curd (GBR) and Eleonora Farina (ITA) failed to come close to her time, but then Marine Cabirou's (FRA) splits started showing green. Cabirou eventually crossed the line over 4.5 seconds ahead of Siegenthaler.
Entering the Top 5, all eyes were on the two Brits, Rachel Atherton and Tahnée Seagrave, who dominated much of the UCI World Cup season. But. before it came to the British showdown, 2017 UCI World Cup overall winner Myriam Nicole (FRA), proved that she was truly back from her injury and not to be counted out by besting Cabirou's already fast time by another five seconds. Following Nicole, Tracey Hannah (AUS) wasn't able to put down the run she wanted to and slid behind the French duo. With the crowd's attention moving to the two Brits left at the start chute, Tahnée Seagrave made quick work of the top section, including the demanding Graubünden Rock Garden. The young Brit was over a second ahead at the first two splits, but started to lose time and fell behind Nicole in the middle of the track. A strong few corners and jumps before the finish line, however, saw Seagrave crossing the line 0.6 seconds ahead of Nicole with only Rachel Atherton left at the top.
The 2018 UCI World Cup champion blasted through the first turns and demanding rock garden visibly quicker than any woman before her and stunned the spectators with a first split time that was an unbelievable three seconds faster than Seagrave. Rachel however wasn't done yet and continued to blast down the course, increasing her lead, sector after sector, until she crossed the line a massive 9.8 seconds ahead of Seagrave to take her fifth UCI Rainbow Jersey.
Rachel Atherton (GBR): "I was really nervous going into this week. After watching practice and seeing Tahnée and Myriam riding so fast, I knew that it was going to be an extremely fast race. I was honestly blown away by how fast these two were riding. I knew that I really had to push it, all or nothing. You can either win or crash and either is ok because it's the World Championships, so I just laid it all out there. I got a bit sketchy but luckily it worked out this time."