Troy Brosnan cleans up Crankworx Les Gets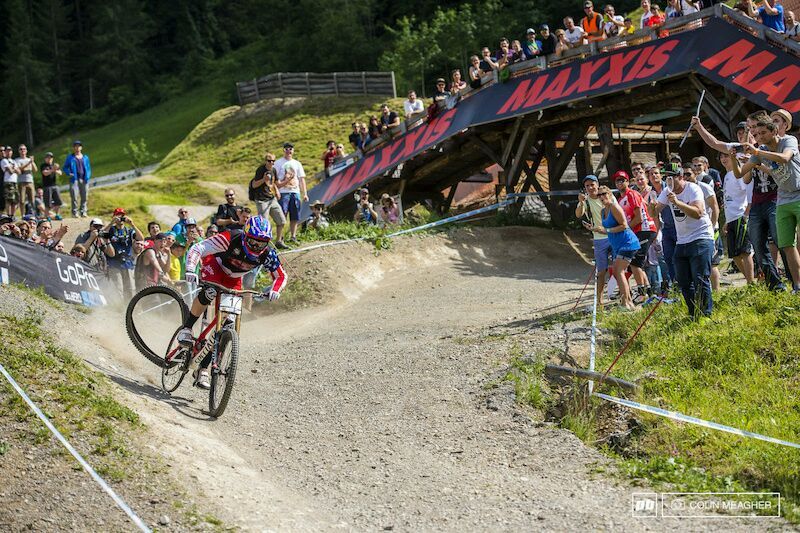 Troy Brosnan cleans up Crankworx Les Gets
Sout Australian speedster Troy Brosnan threw down an astonishing run to defend his Crankworx Les Gets title from 2017, in a race that resembled a mini World Cup round.
On a fast, rough-and-tumble track that took no prisoners, Brosnan (below) was the last man down the hill, besting a field of riders that included current World Cup DH leader, Amoury Pierron, who would come home second.
"The top was super blown and you could see it when you went up the little chairlift. Towards the bottom I just opened it up and went as fast as I could and I had a real relaxed grip," said the 24-year-old. "I actually hit a big hole and my grip just blew off the bar, and I still kind of held the brake lever a little bit and kept it on, but it got loose and wild. It didn't slow me down but I thought I was going to crash and hurt myself. So to get down and get the win, I'm super stoked."
His time of 2'59''.55 not only bested Pierron's 3'00''12, but improves upon his winning time of 3'02''83 from last year.
Brosnan said the repeat felt "amazing," adding that beating Pierron, who's coming off back-to-back World Cup wins in Fort William and Leogang, is "massive."
"He's definitely the man to beat right now. To be right up there with him and then take the win, it's really big confidence for me and something I'll hold on to."
Queensland racer Tracey Hannah posted a third in the women's event, behind local rider Myriam Nicole and winner Rachel Atherton.