The people of port to port
The people of port to port
It was a privilege to see more than 700 MTBers from all parts of the country and from all walks of life take on the four-day Port to Port MTB event. Over four perfect autumn days, legs were tortured and spirits frayed, but the banter at the end of each leg really brough home the joy and good humour that mountain biking has long championed.
Here's a quick selection of shots we took over a couple of days, ahead of a story from our own Bruce Newton (below), who tackled the entire event for the first time.
Meanwhile, here's what happened at the pointy end, thanks to the team at Port to Port MTB;
Brendan Johnston has defended his overnight lead and held off the charging Tas Nankervis to record back to back victories in the prestigious Port to Port MTB. In the women's event, Holly Harris put a big tick against her bucket list, winning on debut after clean sweeping the four day stage event that concluded in Newcastle this morning.
Going into the final stage (Blacksmiths Beach to Dixon's Park) the win was for the taking, with Johnston holding only a 14 second buffer over Nankervis and the goal for both riders to race fast and error free. Johnston shadowed Nankervis for the entire stage, minimising the risk of damage and keeping the pressure on right to the finish line.
"Going out with that sort of time gap to these guys I was pretty nervous and to roll in here for the win means heaps to me. After the first day I didn't think I would be close to the jersey, so I can't believe it. I just crept up one spot each race and it just kind of came to me and the legs got better and better each day. I felt really good today and it was the most comfortable I have felt the whole week.
"I was so happy to see the finish arch. I was ticking off the kilometres because I was only just hanging on and I never felt like I had a firm grasp on the race. So every kilometre that went by I was thinking 'I only have that far to go, I can make it'. I knew about a few of the climbs and I was thinking if I just stay with him that climb then it is one more ticked off. I was just approaching the race like that. Every time I stayed with him, especially out of the beach, I would think I am feeling good, I think I can hang with him to the finish," Johnston said.
While Tas Nankervis collected the stage win, he still couldn't shake the dogged Johnston.
"My plan was to set a hard tempo into the beach and I did that. Fourteen seconds is still enough gap to sit in and Brendan only had one job to do which was follow my wheel. If I had been in his position I would have done exactly the same. I felt good coming off the beach and that was where we dropped the others. But unfortunately the guy on my back wheel was Trekky. There was a massive climb after the beach section, definitely the biggest climb of the day, and I just gave it my all and got to the crest and he was still there. I also had a bit of a dig when it flattened out but he just kept hanging in," Nankervis said.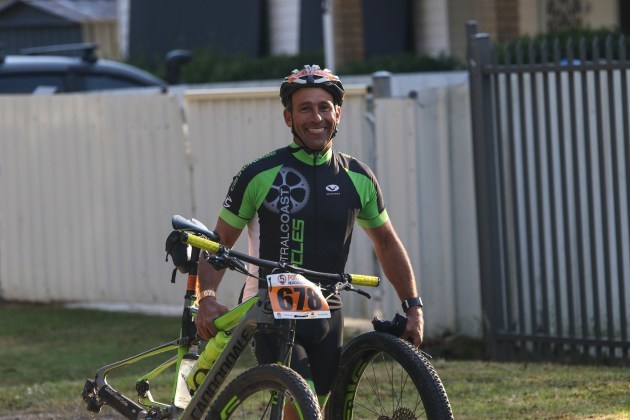 With 1:30 to make up third place Cam Ivory only had one option, go hard, take risks and try to force Johnston and Nankervis into error.
"I had to take chances today. I tried to hit them again through the beach hoping they would make a mistake behind me and a gap would open up. But they just stuck with me and went straight past me on the sand and rode away from me. I just watched them leave. I am feeling pretty cooked and flat but it would have been good to stick with them to see how their race unfolded," a disappointed Ivory said.
Holly Harris had dominated all stages, and despite a slight illness scare overnight, she came out with all guns blazing, ready to add Port to Port MTB to her resume. There was no stopping her and she put in another stunning performance delighting her supporters and growing fan base.
"I was a bit crook last night but I came good this morning. I am very happy about that but I am busted, I had a hard day, really struggled and made a few mistakes. It was a good flog though, the best sort. I am just having such a good time and so stoked that all my friends and family are here. It is just awesome. It was really nice to clean sweep all four stages, definitely and I am very proud of my performance. Endurance has never been my strength but to win here is awesome for me."
"This race wasn't really a focus, it was more something on my bucket list that I always wanted to do. The atmosphere was just great, the trails were awesome and the event is run so well. That is the reason why we spend hours and hours on our bikes because this is just so much fun."
"I am definitely doing Cape to Cape it was my first ever stage race, so I absolutely want to go back there," she said.